Hi Everyone,
We all hope you're having a great holiday!
It's the time for giving, so we're giving you a complete 2016 update!
If you've been following our updates, you'll have seen us discuss gameplay additions, modifications, art updates, code edits etc etc. 2016 has seen rapid development progress for RIOT: Civil Unrest.
With that said, let's get into this! Here's how 2016 has looked for RIOT:
January
On track for a good start to the year. The pace is beginning to pick up, more people on the team and things are looking great!
February
A massive incompatibility bug sets back development! The team found a glitch in the repository server whereby, using an IDE that is slightly out-dated caused complex conflicts, setting back development by weeks!
March
The problem is resolved! Hundreds of rollbacks, rebasing, remerging, and sweeping ignores later…Marco, the lead programmer finally emerges victorious. Development can continue!
Now the code has been recovered, bug fixing commences to resolve various glitches that have surfaced with this problem.
Meanwhile, we analyse the game, take a step back and consider the game from the end-user perspective. There were no instructions, guides, tips or anything of that nature. "We need to add more information!" Everyone agreed to proceed with this goal.
Preparations begin for PAX! A video of gameplay so far, is uploaded:

RIOT – Civil Unrest was recently on display at PAX East and this video demonstrates some of the gameplay. Images and sound are not necessarily representative of the final game.
April
We start to identify key bugs in animation, menus, movement. These issues are raised to high priority. Can't play a game if you can't control it! D:
May & June
Animation, movement and menus get a complete overhaul and refinement. Throughout this refinement process, AI has been tweaked! The game is more efficient and running better than before! Still, there's much work to be done….
July
While the game is certainly more optimized than before, we soon realise that we can't keep working on the game unless multithreading is added. Moving massive crowds where each character has their own AI, characteristics, responses to events, actions and so on; is extremely demanding on the game!
Initial tests show the implementation of multithreading is successful and the game is running much better.
August
We're looking to achieve a final alpha!!!
Marco – the lead programmer, Fabrizio – assistant programmer, Leonard – the artist; all start tying up the various loose ends of production for a large internal alpha test session!
Things are looking great and we finally close a final alpha for internal tests!
September
Alpha tests begin, immediately we begin to see bug after bug, feature request after feature request…So, we start to compile all this feedback we have made internally to work from. We begin to make a schedule for beta development.
We begin working on resolving all the alpha bugs as we start working on beta!
15th September – There's light at the end of the tunnel!!! We decide to start posting fortnightly updates to Steam to show everyone what exactly, we are working on!
October
Gameplay and AI have become a big focus for the team following alpha tests. We have noticed that it's quite hard to control the game in some instances. The nature of a riot really works against you when you really want to have control! The AI is good, in fact, sometimes it's too good, too convincing! Each character has their own view on what's happening at any given time – basically, while they move as a crowd, they are not a hive mind and some people will react differently to the majority in the crowd. Some people will be brave and stand against a smoke grenade, many will run. In a riot, you see things like this happen, but how can you maintain control of something like that? Well, we need to draw a balance to realistic response and gameplay. This process continues to the day of this post!
This month, we identified some big AI problems, but we also have solutions that we are working on.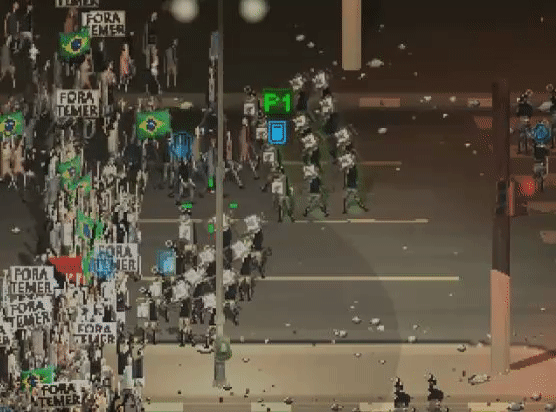 November
The AI is nearing completion, we are now able to have the game play itself! We just enable AI for police and protesters and watch them go! It's interesting to watch and it really highlights some underlying problems as we can watch both sides and take notes.
We continue to refine single player by continuing tests with just one side's AI enabled.
Local Multiplayer is almost ready!
Some gameplay elements still need refinement and we realise that some of the level layouts need tweaking.
The UI has been updated again and refinement of the art assets has begun!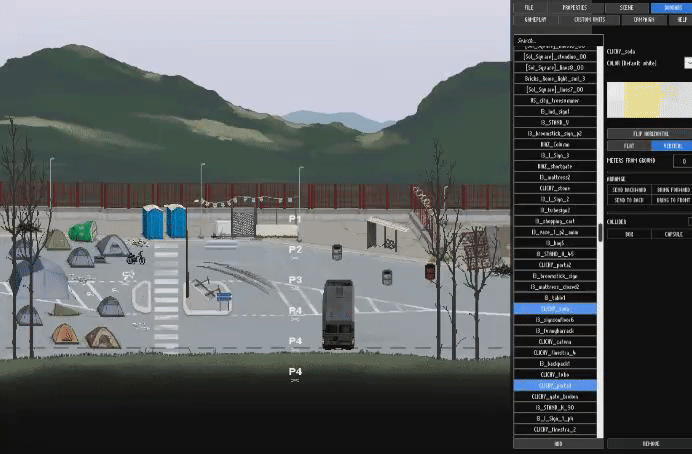 The new RIOT editor!
December
Gameplay balancing is the primary milestone for the month. Following everything we have learned along the way this year, this stands out as our last big obstacle. Making the game fair, and fun.
You may have seen our updates on gameplay elements, formations were just a part of a larger test phase as we continue to drill down to solutions and make the game enjoyable.
All the feedback, support and questions we have received on these updates has been phenomenal! We really hope you all enjoy the game when it comes out, and it will come out, in early 2017.
Please continue to stick with us for more updates, we should have more rigid dates soon for you all.
Thanks again for all the support!
RIOT – Civil Unrest Development Team